Aaron Zeitlin--Polish/American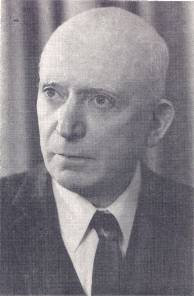 Aaron Zeitlin
(1889-1973)
Aaron Zeitlin was the son of the famous Jewish writer, Hillel Zeitlin.  Born in Belarus in 1889, Zeitlan spent his early years in Vilna, Lithuania.  His poetry was first published in two Odessa-based children's journals.  Zeitlan moved to New York in 1939 at the request of the Yiddish playwright, Maurice Schwartz.  He remained in the U.S. until his death in 1973.  In addition to being a poet, Zeitlin wrote for the theater and taught Hebrew Literature at the Jewish Theological Seminary.  His work, Chelmer Chachomim, is one of the best known plays of the Yiddish Theater.
I Didn't Have the Privilege
I got away in time and God concealed
The terrors from me—
Why, why did I leave Poland?
I did not have the privilege together with my nation
to go the way of flames,
and like an unforgivable sin, torments,
the guilt of remaining alive,
of remaining alive and composing rhymes.
The guilt will poison me,
unless I follow one of three figures,
who stand ready to hide me from guilt,
who wait and who heatedly call me:
One figure is holiness—the second is insanity,
Suicide is the third.
But suicide is too strong for me, the weakling,
My smallness cannot allow itself holiness,
And I can't even go out of my mind.
Donna, Donna
The song "Donna, Donna" is subject to various interpretations but the calf is generally believed to represent a Jew being taken to one of the German concentration camps by the farmer, representing the Nazis. The swallow at first may signify those who are not being subjected to persecution, but by the end of the song it represents the free spirit of the Jew which remains free whatever is suffered by the physical body.

Secunda translated the song into English, but it did not become popular until it was translated as "Donna Donna" in 1956 by Arthur Kevess and Teddi Schwartz. It really took off when Joan Baez sang it in 1960.

Other recordings include Joan Baez, Donovan (1965), The Chad Mitchell Trio and Theodore Bikel.