Acting on Behalf of Peace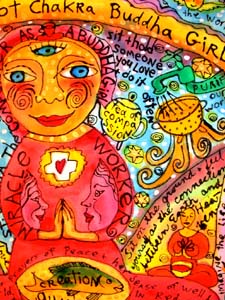 Peace Buddha Girl by Susan Shie
What can you do to help bring about peace?  Peace in your school, within your family, in the community and peace within the world.  It seems like such an overwhelming task.  However, it isn't so big when you start by taking small steps.  Each of these steps adds up.  Get others involved and then the steps double, triple and quadruple.  Below are some ideas about how to act on behalf of peace.  Select one or create your own and plan the activity.  What would it take to see your idea "come to life"?  Consider who should be involved, when it will happen, what will you need to do the project, etc.?  Remember it will be easier if you have more people involved, and keep in mind that peace starts in our own backyards.
Organize a sing out session for peace.  Ask teachers, adults and friends the names of songs that might be included in the sing out.  Don't forget some of the standards, John Lennon's "Imagine" and Bob Dylan's "Blowing in the Wind."  Don't forget you'll need song sheets so everyone can join in and you'll need someone to take the lead on each song.  You might even consider combining the sing out with sharing ethnic food. 
Create a peace park or garden.  Perhaps this could be in your neighborhood or even on school grounds.  Consider what would be in this park (i.e., plants, trees, flowers, rocks, pathways, areas to sit and reflect, sculpture, etc.).  You'll need to map out the area and research planting season information.  You'll also have to have a plan for how the park or garden will be cared for year round.  Don't forget about planning the dedication of the park.  Who will be invited to talk, what will happen at the dedication, etc.?
Design a peace mural.  There are books on how to create murals that you will want to check out.  There are several different types of murals you may consider: shadow murals, collage murals, mixed media as well as murals that are more traditional.  What is it that you want your mural to depict?  Who will be involved in creating the mural?  Who will be in charge?  Will it be painted on a wall or on another surface (i.e., masonite board, canvas or paper)?  Where will it hang?  Just as with the peace park or garden you will need to plan for a dedication ceremony.
Sponsor a peace day.  This could be a school event or the community could be invited.  It could happen during the week or on the weekend.  Think about all the things that could be done in this day.  Poems, readings, art exhibits, group discussions, etc.  The possibilities are endless.  As with all of the other peace ideas this one takes a great deal of thought, planning and organizing others in order for the event to be successful.
Sponsor a series of peace events.  Select books or videos that have peace as a theme.  Work with teachers and others to prepare study and discussion questions.  Get as many classes or groups involved in the activities.  Create posters to announce the readings or showings. 
Don't forget to publicize your project and activities in the local and school newspapers. Arrange for interviews to get your messages out.