Takeyama, Michio.  Harp of Burma (Tuttle Publishing Co., 1981).
Near the end of World War II, the Japanese are facing defeat in Burma at the hands of the British Army. After Corporal Mizushima's unit surrenders he attempts to persuade other holdouts also to surrender without a struggle, now that the war is coming to an end. They refuse and in the final battle Mizushima is injured and rescued by a Buddhist monk. Thus begins a spiritual journey for Mizushima which ends with him adopting the robes of a monk and travelling the countryside, cremating and burying the war dead. 
Thackara, James.  America's Children (Penguin Group, Reissue, 2002).
America's Children is a multi-layered story of Christian and Marxist values; of love of family and land; of invisible high-energy particles and Pentagon technocrats; of thrilling scientific discovery and the unspeakable reality of Hiroshima. The great classical myths of man's mastery over nature suffuse America's Children with a seductive, deathly glow. A novel for our age, America's Children is a sublime and truly American story of the theft of atomic fire, the agonies of political and moral conscience, and the future of our planet in a nuclear world.
Thackara, James.  Book of Kings (Penguin Group, Reissue, 2000).
James Thackara's epic novel The Book of Kings is set across the entire continent of Europe, as well as North and South America and North Africa, in the years shortly before and during World War II and leading up to the present day. The Book of Kings tracks Europe's drift toward Nazism from 1932, when a quartet of students at the Sorbonne - David and Johannes, both German; Justin, a French/Algerian scholarship student; and Duncan, an American with an attachment to "old" Europe - share an apartment on the rue de Fleurus. The Book of Kings sounds the fate of its characters far beyond their commonplace existence as it pursues the enduring questions of absolute evil and man's responsibility. In scenes ranging from the fall of France, the Moscow front, Silesia's camps, the siege of Berlin, and the Amazon rainforests, the design of the novel emerges to reveal civilization strung between its two mortal tendencies, first in the thrall of an irresistible attraction toward cataclysm, then returning from destruction toward redemption.
Thirkell, Angela Mackail.  Miss Bunting (Moyer Bell, 1996).
From the '30s to the '60s, Thirkell wrote a novel a year, most of which were set in an updated version of Trollope's Barsetshire. This installment, originally published in 1945 is a mild and rather obvious comedy of manners set during one summer late in WWII, when traditional order is being brought to an end by the rise of industrial wealth and the damages inflicted by six years of war. The story revolves around a wide group of the upper class--primarily landowners and clergymen--who have dominated this small town, and how they will respond to arrival of a coarse but dynamic industrial tycoon. Miss Bunting is an elderly ex-governess who has been hired by one family to instruct and care for their 17-year-old daughter, Anne. There are numerous characters in the novel, some dashing in and out of the narrative with such speed that the only thing they contribute is the memory of a vaguely humorous name. Some will find the book dated, but for Thirkell's many readers in this country, it will be a welcome addition to the growing library of her work.  (Publisher's Weekly)
Thoene, Bodie.  The Twilight of Courage (Thomas Nelson, Inc. 1996).
The Twilight of Courage is a retelling of World War II that intertwines the stories of two American journalists' escape from the collapse of Warsaw, with those of an orphaned baby's journey to Jerusalem, a mathematician's attempt to crack Nazi code, and more.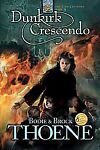 Thoene, Bodie and Brock.  Dunkirk Crescendo (Zion Covenant Series #7-9) (Tyndale House Publishers, 2005).
This description covers #7 London Refrain, #8 Paris Encore, and #9 Dunkirk Crescendo. These three additions to the Zion Covenant series are "director's cuts." They include portions of the Thoene classic The Twilight of Courage and thrilling, never-before-published scenes with the characters you've come to know and love. Readers will finally know the fates of Jacob and Lori Kalner from Warsaw Requiem and meet for the first time David Meyer from The Zion Chronicles, plus Madame Rose Smith and Jerome Jardin from The Zion Legacy and, most importantly, Rachel and Yacov Lubetkin, the heroes of The Zion Chronicles series. Study questions included. 

Thoene, Bodie and Brock.  Warsaw Requiem (Zion Covenant Series #6) (Tyndale House Publishers, 2005).
Book 6 of The Zion Covenant series. Heroic efforts are underway to save as many Jewish children as possible while the escalation of brutality portends an international nightmare.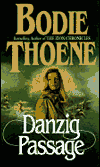 Thoene, Bodie and Brock.  Danzig Passage (Zion Covenant Series #5) (Tyndale House Publishers, 2005).
This sequel to Jerusalem Interlude focuses on two families during the early years of Hitler's regime. The Ibsen family has helped Jews, and two members of the mafily have been arrested. The Ibsen children are seeking a way to escape the Nazis. Peter Wallich, a Jew, is trying to escape from Berlin with his family.

Thoene, Bodie and Brock.  Jerusalem Interlude (Zion Covenant Series #4) (Tyndale House Publishers, 2005).
For Jews in prewar Europe, the terrifying truth is uncovered: Truly they have no place to go. Escape or perish, but escape to where? As Central Europe is taken over by the Nazis under celebrated headlines of Peace in Our Times, hundreds of thousands pay the price for Hitler's international deception. In Jerusalem Interlude, Leah and Shimon Feldstein finally reach the Promised Land. They enter their new life under the shadow of the Western Wall, only to find that a longer, more sinister shadow is casting its darkness over the Holy Land. Will they ever find true peace, a resting place for their spirits? Or will their time in Jerusalem be only a brief interlude in the ongoing struggle for a homeland?
Thoene, Bodie and Brock.  Munich Signature (Zion Covenant Series #3) (Tyndale House Publishers, 2005).
Book 3 in the compelling Zion Covenant series, the thrilling sequel to Prague Counterpoint. Elisa Murphy holds information that might be a key to stopping Hitler.
Thoene, Bodie and Brock.  Prague Counterpoint (Zion Covenant Series #2) (Tyndale House Publishers, 2005).
In this sequel to the Vienna Prelude, Elisa Lendheim is caught in the center of violence that sweeps Europe as Hitler's plan to annihilate the Jews unfolds.
Thoene, Bodie and Brock.  Vienna Prelude (Zion Covenant Series #1) (Tyndale House Publishers, 2005).
Book 1 in the compelling Zion Covenant series. Her own identity was safely disguised. But what about those she loved most?
Thomas, Evan.  Sea of Thunder (Simon & Schuster, 2006).
Evan Thomas takes us inside the naval war of 1941-1945 in the South Pacific in a way that blends the best of military and cultural history and riveting narrative drama. He follows four men throughout: Admiral William ("Bull") Halsey, the macho, gallant, racist American fleet commander; Admiral Takeo Kurita, the Japanese battleship commander charged with making what was, in essence, a suicidal fleet attack against the American invasion of the Philippines; Admiral Matome Ugaki, a self-styled samurai who was the commander of all kamikazes and himself the last kamikaze of the war; and Commander Ernest Evans, a Cherokee Indian and Annapolis graduate who led his destroyer on the last great charge in the last great naval battle in history. Sea of Thunder climaxes with the Battle of Leyte Gulf, the biggest naval battle ever fought, over four bloody and harrowing days in October 1944. We see Halsey make an epic blunder just as he reaches for true glory; we see the Japanese navy literally sailing in circles, torn between the desire to die heroically and the exhausted, unacceptable realization that death is futile; we sail with Commander Evans and the men of the USS Johnston into the jaws of the Japanese fleet and exult and suffer with them as they torpedo a cruiser, bluff and confuse the enemy—and then, their ship sunk, endure fifty horrific hours in shark-infested water.
Thorpe, Adam.  The Rules of Perspective (Picador, Re-issue, 2007).
On April 3, 1945, the advancing American army shells the historic town of Lohenfelde, and the Kaiser-Wilhelm museum. Within the museum's vaults, Heinrich Hoffer is hiding from the bombardment, and trying to keep a priceless Van Gogh from falling into the hands of a rogue Nazi. After the shelling, an American corporal, Neal Parry, finds a beautiful eighteenth-century oil painting in the rubble, and must confront both its beauty, and the morality of stealing it. The stories of Herr Hoffer, Parry, and their paintings unfold simultaneously in this gripping, brilliantly structured novel about art and war.
Trammell, Jack.  Saints Departed (Hard Shell Word Factory, 2001).
During World War II, occupied Paris was a city filled with people acting contrary to their better natures. The Saints Departed, is a novel of these ordinary/extraordinary people and their supreme moments when regimes could suddenly topple, leaders falter, and the course of war irrevocably change direction. Based on many factual plots and stories, The Saints Departed centers around an ill-fated love affair between an overconfident German agent and a female French Resistance fighter bent on revenge, who find themselves entwined in a massive conspiracy that will end either with Hitler's death and a pre-invasion peace with the Allies, or a persecution of the French people far worse than anything imaginable.