Choosing Words--Thinking a Little Before Speaking--Words In and Words Out
Maxie Dunnam from his "Perceptions" program offers us some questions/statements to reflect upon:
Have you ever had to eat your words? 
 
Verbalized suspicions that were unfounded. 
 
Shared rumors that were untrue. 
 
Accused someone hastily because you misjudged their motives. 
 
Misunderstood what a person was saying, and you lashed back in anger. 
 
Passed on a rumor only to discover it was blatantly false. 
 
Words can hurt, even destroy. And words can hurt us when we have to eat them.

Reflections
Write out your personal thoughts on the question and statements offered above:
Maxie Dunnam in Perceptions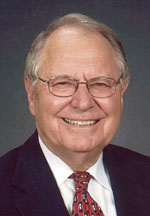 Maxie D. Dunnam is chancellor of Asbury Theological Seminary in Wilmore, Kentucky, where he also served as president from 1994 through 2004. Widely known as an evangelist, leader, and pioneer in small-group ministries, he organized and pastored three United Methodist churches before becoming the world editor of the Upper Room Fellowship. Dr. Dunnam has authored more than forty books. He is also well-known for his radio series "Perceptions."