Featured Films--The Fallen to From Hell to Victory
The Fallen (2004), Director: Ari Taub, Running time: 120 minutes.
The Fallen is a three-sided story about German, Italian, and American soldiers, set in Northern Italy during the final weeks of the World War II. On the one side, a group of American supply soldiers delivers ammunition to the front line, a journey that becomes a descent into hell, the success of the mission becomes less likely with every setback. On the other, a doomed German unit and their ragtag Italian partners struggle to maintain morale and discipline amongst their beleaguered troops in the face of certain defeat. Torn between these are the divided loyalties of the Italians, both fascist soldiers and communist partisans, who have turned brother against brother in a bloody civil war. The film looks at the everyday life of the soldiers, their encounters on the road, their hopes and dreams, and the differences in values, morals, and patriotism between the cultures at the end of that era. (Written by Ari Taub for IMBd)
Farewell to Manzanar (1976), Director: John Korty, Running time: 120 minutes.
Fact based drama about one of the internment camps used by the American military during World War II to detain some 100,000 Japanese Americans (most of them U.S. born) following Japan's attack on Pearl Harbor. (Eugene Kim for IMDb)
Fat Man and Little Boy (1989), Director: Roland Joffé, Running time: 126 minutes.
Despite the combined star power in front of and behind the camera, Fat Man and Little Boy is a largely tepid retelling of the history of the Manhattan Project, the atomic testing project that led to the U.S. bombing of Japan during World War II (said bombs were dubbed "Fat Man" and "Little Boy"). The Nevada-based project is headed by General Leslie R. Groves (a testy Paul Newman) and scientist J. Robert Oppenheimer (Dwight Schultz of the TV series The A-Team), who later regretted his cooperation in the project. The problem with the film lies not with the acting, which includes solid performances by Bonnie Bedelia, Laura Dern, John Cusack, and future U.S. Senator Fred Dalton Thompson, but with the script by director Roland Joffé and Bruce Robinson (Withnail and I and Joffé's The Killing Fields). A subject as morally complex as the creation of a supreme weapon requires a strong and thoughtful script, but Fat Man and Little Boy never gets further than establishing that indeed, atomic power is something to reckon with. Joseph Sargent's 1989 made-for-TV film Day One, with Brian Dennehy as Groves and David Straithairn as Oppenheimer, covers the same story with twice the depth and avoids the pitfall of a romantic subplot (Oppenheimer's dalliance with a communist played by Natasha Richardson), which this film stumbles into. Cusack's doomed scientist is actually a combination of two real-life physicists, Harry Daghlian and Louis Slotkin, who died from radiation poisoning, albeit long after V-J Day.  (Paul Gaita for Amazon.com) 
Father Goose (1964), Director: Ralph Nelson, Running time: 118 minutes.
During World War II South Sea beachcomber Walter Eckland is persuaded to spy on planes passing over his island. He gets more than he bargained for as schoolteacher Catherine Frenau arrives on the run from the Japanese with her pupils in tow! 
The Fighting Rats of Tobruk (1945), Director: Charles Chauvel, Running time: 71 minutes.
An Englishman and two Australians are sent to North Africa to fight side-by-side in the major battles that help Australia capture Tobruk. The Germans with hordes of tanks and infantry are defeated in some of the most incredible battles of World War II.
The Fighting Seabees (1944), Director: Edward Ludwig, Running time: 100 minutes.
All-American hero John Wayne takes a crew of construction workers and turns them into one of WWII's toughest fighting forces in this action-packed war classic. But first he has to convince the army brass to let his civilians bear arms, and then he's got to whip them into combat shape. Now Wayne is fighting for his life on a different battlefield when he's brought up on court-martial charges for leading his troops in an all-out assault against the Japanese. It's Wayne at his best, playing the kind of rough-and-tumble man of honor that made him a legend and Hollywood's biggest star.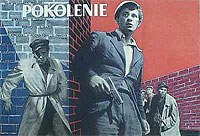 Five Boys from Barska Street (1954), Director: Aleksander Ford, Running time: 112 minutes.
After a five-year absence from the Polish film industry (he spent the time as head of the prestigious Lodz film school), director Aleksander Ford made a triumphant return with Five from Barksa Street. Essentially a juvenile-delinquent drama, the film records the trials and tribulations of five street kids who rebel against the exigencies of the recent war and the economic deprivations of the postwar era. Though they've been given a pass by a compassionate parole officer, the boys return to their life of petty crime. Eventually, however, they become worthwhile members of "the state" by turning against a nasty gangster boss. Despite its propagandistic overtones, Five from Barska Street is a vivid and realistic slice-of-life melodrama, and as such completely worthy of its 1954 Cannes Film Festival award.  (Hal Erickson for All Movie Guide)
Flags of Our Fathers (2006), Director: Clint Eastwood, Running time: 132 minutes.
February 1945. Even as victory in Europe was finally within reach, the war in the Pacific raged on. One of the most crucial and bloodiest battles of the war was the struggle for the island of Iwo Jima, which culminated with what would become one of the most iconic images in history: five Marines and a Navy corpsman raising the American flag on Mount Suribachi. The inspiring photo capturing that moment became a symbol of victory to a nation that had grown weary of war and made instant heroes of the six American soldiers at the base of the flag, some of whom would die soon after, never knowing that they had been immortalized. But the surviving flag raisers had no interest in being held up as symbols and did not consider themselves heroes; they wanted only to stay on the front with their brothers in arms who were fighting and dying without fanfare or glory.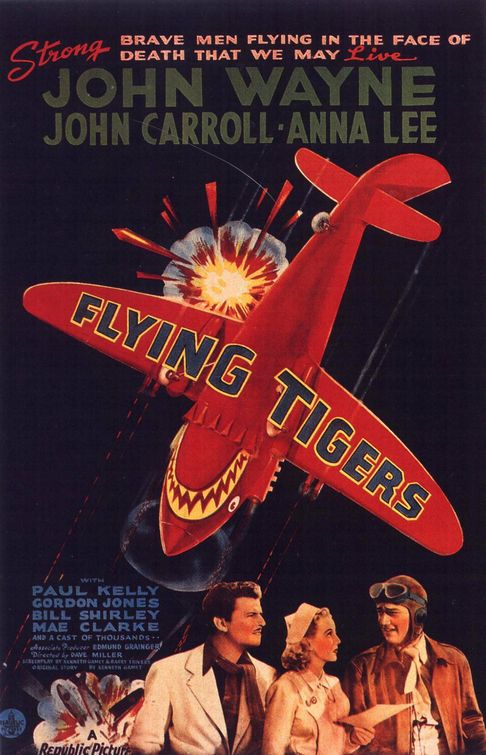 Flying Tigers (1942), Director: David Miller, Running time: 101 minutes.
John Wayne plays the tough commander of Flying Tigers, the famous fighter squadron that fought to save China from the Japanese. Wayne finds he is fighting a war on two fronts: he's taking on the enemy with only a handful of inexperienced men and patched-up planes while keeping a cocky new pilot from stealing his girl. The story has little in common with real history, and lots of classic post-Pearl Harbor propaganda fills the script. Regardless, the movie is all Wayne's, and Wayne fans will enjoy seeing the prototype for what would become the Duke's trademark portrayal of the military fighting man. 
Although the pressure of making life-and-death decisions in wartime may be more maturely explored in Twelve O'Clock High, Flying Tigers still has enough characterization and action to keep the viewer's attention (not to mention special effects by the pioneering Howard Lydecker). (Mark Savary for Amazon.com) 
Force 10 from Naverone (1978), Director: Guy Hamilton, Running time: 244 minutes.
This is supposed to be a sequel to the movie, Guns Of Navarone. In this version the roles of Mallory and Miller, who were played by Gregory Peck and David Niven, are now being played Robert Shaw and Edward Fox. It seems that there was traitor with them at Navarone, whom they thought was executed. But it seems that not only was he not executed, and he was not a traitor but a German spy. Whom intelligence believes made it Yugoslavia and is now with the Partisans. So, Mallory and Miller being the only ones who can positively identify him, are sent along with a unit called Force 10, which is led by Colonel Barnsby, who objects to their presence. It seems that Force 10 has a mission of their own which Mallory and Miller know nothing about. When their plane is shot and most of the team is killed, they mistakenly believe that some of the locals they meet are Partisans but in reality are German Allies, so they are taken prisoner, and have to convince the German commander that they are not spies or else they will be killed.
Foyle's War (2003-2007), Four Part Series, Running time: approximately 400 per series. 
The series begins in 1940 as Britain stands alone against the might of Nazi Germany across the continent. The terrors of nightly bombing raids are only matched by the fear and hysteria of the population at the prospect of the seemingly inevitable German invasion. It is in this environment that Chief Inspector Christopher Foyle, of the Hastings Police on the south coast of England, works. Denied a transfer to the war effort, Foyle is nonetheless forced to confront the darkest acts of humanity on a daily basis. With his official driver, Sam, and his subordinate, Paul Milner, Foyle investigates murders, looting and theft, crimes of opportunism, crimes of war, crimes of passion and crimes of greed—because crime isn't stopped because of warfare.
Freedom Radio (1941), Director: Anthony Asquith, Running time: 95 minutes.
Hitler's doctor is gradually realizing that the Nazi regime isn't as good as it pretends to be when his friends start to "disappear" into the camps. His wife is courted by the party and accepts a political post in Berlin. Meanwhile Dr. Karl decides to try to do something to counteract the Nazi propaganda and with the help of an engineer and a few friends he sets up the Freedom Radio to counteract the Nazi propaganda.  (Steve Crook for IMDb)
The Frogman (1951), Director: Lloyd Bacon, Running time: 96 minutes.
World War II drama in which Richard Widmark, as Lt. Cmdr. John Lawrence, replaces the popular commanding officer of a group of underwater demolition divers, a crew of fiercely independent studs who hang their proverbial hats in Davy Jones' locker. The martinet Lawrence tightens the discipline of the unit, making him mucho unpopular with the macho frogmen. Finally, Lawrence proves himself as more than just a stuffed white shirt, showing he has the will to keep up with their peculiar brand of the Jones, becoming one of the team by fearlessly defusing a live torpedo at the risk of his own life.
From Hell to Victory (1979), Director: Umberto Lenzi, Running time: 101 minutes.
On August 24, 1939, at a small French cafe, six friends are about to go their separate ways. They vow to reunite on that day each year at the cafe. The film follows each of their lives: one begins work with the French resistance, one joins the French commandos, another is forced to join the Nazi army, one becomes a flier, and the two others are just simple officers.