Featured Films--The Garden of the Finzi Continis to Guns of Naverone
The Garden Of The Finzi Continis (1971), Director: Vittorio De Sica, Running time: 90 minutes.
Set in northern Italy's Ferrara community at the outbreak of World War II, this classic film by Vittorio De Sica concerns an old, aristocratic Jewish family, the Finzi-Continis, who maintain their isolated, idyllic ways within the stone walls of their lush estate while Mussolini imprisons Jews outside. The story's central figure, young Giorgio (Lino Capolicchio), is a middle-class Jew who has always found perfect sanctuary within the Finzi-Continis' walls and who is in love with his childhood friend from that family, Micol (Dominique Sanda). Micol, however, is sexually restless and fit to burst for want of experiences impossible under government oppression. As Giorgio suffers his estrangement from her, De Sica traces the disintegration of a lost and beautiful way of life, slowly turning his focus from the privileged refuge of tennis courts and private libraries to police barriers and rooms where Jews await transport to concentration camps. This powerful work of memory tragically captures a loss of innocence on both the most personal and historical stages. (Tom Keogh for Amazon.com)  
A Generation (1955), Director: Andrzej Wajda, Running time: 85 minutes.
A Generation, the first film in Wajda's unplanned war trilogy (Kanal, Ashes and Diamonds), began a Polish film renaissance that would later include filmmakers Jerzy Skolimowski and Roman Polanski (who is featured in the cast)-Wajda, who fought for the Resistance during World War II, offers a strikingly unsentimental appraisal of heroism in the tale of a cocky Polish youth who decides to fight the Nazis after he falls for a pretty Resistance leader. Barely out of their teens, he and his brash friends, approach their first mission-to help escapees during the Warsaw ghetto uprising-like a game of cops and robbers. Inevitably, the game turns deadly and the innocence of a generation is lost under the grueling conditions of war. With its unflinching realism, Wajda's first feature film set the tone for his many powerful works (Danton, Man of Marble, A Love in Germany).  
The Gleiwitz Case (1961), Director: Gerhard Klein, Running time: 70 minutes.
Re-enacted true story of successful assault by Nazis, posing as Poles, on a German border radio station so that Hitler could "justify" thereby his invasion of Poland.  
The Great Escape (1963), Director: John Sturges, Running time: 172 minutes.
Based on a true story, a group of allied escape artist type prisoners of war are all put in an 'escape proof' camp. Their leader decides to try to take out several hundred all at once. The first half of the film is played for comedy as the prisoners mostly outwit their jailers to dig the escape tunnel. The second half is high adventure as they use boats and trains and planes to get out of occupied Europe.
The Great Raid (2005), Director: John Dahl, Running time: 133 minutes.
As World War II rages, the elite 6th Ranger Battalion is given a mission of heroic proportions: push 30 miles behind enemy lines and liberate over 500 American prisoners of war. Under the command of Lt. Col. Henry Mucci, the men of the 6th will face the unthinkable by attempting the impossible! 
Go For Broke (1951),  Director: Robert Pirosh, Running time: 92 minutes.
They were the 442nd Regimental Combat Team... a squad of loyal, Japanese-Americans who had to battle prejudice as well as the Axis enemy. Van Johnson stars as their contemptuous top-kick, whose bigotry gives way to respect in the crucible of war. Supporting Johnson is a cast of veterans, all former members of the highly decorated 442nd, whose battle cry, "Go For Broke!" means, "Shoot the works!"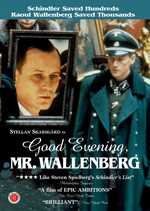 Good Evening, Mr. Wallenberg (1990), Director: Kjell Grede, Running time: 115 minutes.
This historical drama chronicles the struggle of Swedish businessman Raoul Wallenberg (Stella Skarsgard), as he fought valiantly to save the lives of the Jewish residents of Nazi-occupied Budapest.  (Iotis Erlewine for All Movie Guide)
The Grey Zone (2001), Director: Tim Blake Nelson, Running time: 108 minutes.
The title of Tim Blake Nelson's harrowing drama of Jewish death camp prisoners who rise up against their captors to "destroy the machinery" refers as much to the compromise and cloudy morality of collaboration as to the gray world coated in the smoke and ash of the crematoriums. Inspired by real-life events at the Auschwitz death camp, The Grey Zone stars David Arquette as a soul-deadened laborer whose being fiercely jolts to life when he finds a young girl alive among the gassed corpses. He's the heart and soul of an outstanding cast that includes Steve Buscemi and Daniel Benzali as revolt leaders, Allan Corduner as the shunned camp doctor, and Harvey Keitel as the commandant. Nelson's rapid pacing, intimate shooting, and terse, jagged dialogue give the moral debate a discomforting immediacy as it races a deadline. When doom hangs in the air, sure death creates unique priorities.  (Sean Axmaker for Amazon.com) 
Gung Ho!,
Guadalcanal Diary (1943), Director: Lewis Seiler, Running time: 93 minutes.
One of the greatest war movies of all time, combining action-packed, high-caliber battle sequences with quintessential foxhole-buddy camaraderie. Released in 1943, its authenticity and power remain undiminished. 
The story follows one squad of Marines through the bloody assaults on the Solomon Islands during the opening stages of the war in the South Pacific. There's the tough sergeant (Lloyd Nolan), a cab driver from Brooklyn (William Bendix), a Mexican (Anthony Quinn) and a chaplain (Preston Foster). A battle-weary narrator reads from a diary, commenting on the typical grunt's everyday life, and death. Battles and dates of engagement are named, putting the explosive action into a solid historical context.
Gung Ho! (1943), Director: Ray Enright, Running time: 88 minutes.
Seven weeks after Pearl Harbor, volunteers form the new 2nd Marine Raider Battalion whose purpose is to raid Japanese-held islands. The men selected come from different walks of life but have toughness in common. Under command of Colonel 'Thorwald', they're trained in all imaginable forms of combat. Then, after a perilous submarine journey, they face a daunting first mission: to annihilate the much larger Japanese garrison on Makin Island, in a lengthy battle sequence.   (Rod Crawford for IMBd)
Guns at Batasi (1964), Director: John Guillermin, Running time: 103 minutes.
Two-time Oscar winner Richard Attenborough stars as a dedicated British soldier caught in the midst of a revolution in Africa in this compelling war drama. Co-starring Mia Farrow (in her film debut), Guns at Batasi is "an intriguing, thought-provoking (Hollywood Citizen-News) and rousing tale!" (The New Yorker) 
When the head of the British military in Africa is instructed to turn over command to the native militia, he defies orders and arms himself and his followers with a cache of weapons. When Regimental Sergeant Major Lauderdale (Attenborough) learns of this defiance, he springs into action with all the authority at his command, knowing full well that he's the only thing that stands between order and massacre! 
Guns of Naverone (1961), Director: J. Lee Thompson, Running time: 157 minutes.
Gregory Peck, Anthony Quinn and David Niven are Allied saboteurs assigned an impossible mission: infiltrate an impregnable Nazi-held island and destroy the two enormous long-range field guns that prevent the rescue of 2,000 trapped British soldiers. Blacklisted screenwriter Carl Foreman (High Noon,The Bridge on the River Kwai) was determined to re-establish both his name and credibility after spending most of the 50's working in anonymity. To accomplish this, he decided to bring Alistair MacLean's best-selling novel, The Guns of Navarone, to the screen. Supported by an all-star cast and produced on a grand scale, the film was an enormous success, receiving seven 1961 Academy Award nominations (including Best Picture) and winning for Best Special Effects.