Featured Films--Lacombe Lucien to Lucie Aubrac
Lacombe Lucien (1974), Director: Louis Malle, Running time: 138 minutes.
One of the first French films to address the issue of collaboration during the German Occupation, Louis Malle's brave and controversial Lacombe, Lucien traces a young peasant's journey from potential Resistance member to Gestapo recruit. At once the story of a nation and one troubled boy's horrific coming of age, the film is a disquieting portrait of lost innocence and guilt.
Laissez-Passer (2002), Director: Bertrand Tavernier, Running time: 165 minutes.
In occupied France, German-run Continental Films calls the shots in the movie business. Assistant director and Resistance activist Jean Devaivre works for Continental, where he can get "in between the wolf's teeth and avoid being chewed up". Fast-living screenwriter Jean Aurenche uses every possible argument to avoid working for the enemy. For both, wartime is a battle for survival.
Land Girls (1998), Director: David Leland, Running time: 111 minutes.
During World War II, a new regiment called "Land Girls" was formed in England for recruiting women to work at farms where men left to go to war. Three women of different social backgrounds - quiet Stella, young hairdresser Prue and Cambridge graduate Ag join the Land Girls. (IMDb)
Landscape After Battle (1970), Director: Andrzej Wajda, Running time: 101 minutes.
With its breathtaking cinematography, this Andrzej Wajda films is a romantic yet fatalistic fable of budding love and the war that would not end. Based on Tadeusz Borowski's stories of a German stalag curiously unchanged even after its liberation by the American army, the film tells a powerful love story between two Poles at the end of World War II and portrays the destructive effects of war on the human spirit. When Tadeusz, a sensitive Pole who is fascinated with literature, meets Nina, a girl visiting the war camp, he realizes that he will have to begin his life over again.  
The Last Bastion (1984), Director: Chris Thomson, Running time: 160 minutes.
The political battles waged by Australian Prime Minister John Curtin against Franklin Roosevelt, Winston Churchill and others during the Second World War are the subject of this docudrama.  (Jason Ankeny for  All Movie Guide)
Last Days of Mussolini (1977), Director: Carlo Lizzani, Running time: 129 minutes.
April, 1945: With the Third Reich losing ground in the final months of World War II and the Allies pressing towards Italy, Fascist dictator Mussolini flees the wrath of his own people and heads for Switzerland with his mistress, Clara Petacci. Hunted by both the Americans and the partisans, Mussolini finds all avenues of escape blocked and is swiftly captured by the freedom fighters. Held prisoner on the shores of Lake Como, "Il Duce" and his lover endure a dark night of the soul before answering for their crimes at dawn. 
The Last Drop (2005), Director: Colin Teague, Running time: 103 minutes.
What better time for a robbery than under the fog of war! In a daring attempt to end the war by Christmas, the British High Command hatch an extraordinary plan - Operation Market Garden. 35,000 troops are dropped behind enemy lines in German-occupied Holland. In the midst of the largest airborne invasion in history, one small unit of men, codenamed 'Matchbox', has its own hidden agenda. When Matchbox are shot down short of their landing zone, the odds of their success seem hopeless. Seven very different British soldiers find themselves separated from the Allied invasion, on a collision course with three renegade German soldiers who want to lay claim to the hoard. 
The Last Escape (1970), Director: Walter Grauman, Running time: 90 minutes.
Captain Lee Mitchell (Stuart Whitman) is the American officer who joins the British in an attempt to smuggle scientist Von Heinken (Pinkas Braun) out of Germany. The group also assists refugees trying to escape the wrath of the Nazis. Mitchell must quickly mold an inexperienced unit of British soldiers into an effective unit before the Russian tank squadron invades Munich. SS troops and Allies engage in fierce combat as both sides try to capture the noted scientist in this World War II drama.
The Last Lieutenant (1993), Director: Hans Petter Moland, Running time: 102 minutes.
"The Last Lieutenant" or "Secondløytnanten" as it's called in its original language gives the viewer a good insight in how the World War II was for the Norwegian Army. As a low-ranking officer of the Army-reserve, the main character show up for service as soon as he learns that his country is under attack by a foreign force. The war came as a great surprise to the Norwegian armed forces. As he shows up to start his fight, he first has to fight the bureaucracy to be allowed into the war. As he gets his own unit of poorly-trained and ill-motivated reserve soldiers, he takes the fight to the Germans despite most of the Army being either in chaos or surrendering.  (Erik Evans as posted on Amazon.com)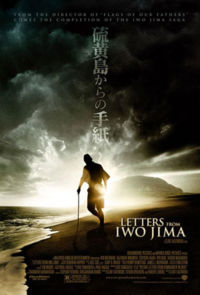 Letters from Iwo Jima (2007), Director: Clint Eastwood, Running time: 140 minutes.
The island of Iwo Jima stands between the American military force and the home islands of Japan. Therefore the Imperial Japanese Army is desperate to prevent it from falling into American hands and providing a launching point for an invasion of Japan. General Tadamichi Kuribayashi is given command of the forces on the island and sets out to prepare for the imminent attack. General Kuribayashi, however, does not favor the rigid traditional approach recommended by his subordinates, and resentment and resistance fester among his staff. In the lower echelons, a young soldier, Saigo, a poor baker in civilian life, strives with his friends to survive the harsh regime of the Japanese army itself, all the while knowing that a fierce battle looms. When the American invasion begins, both Kuribayashi and Saigo find strength, honor, courage, and horrors beyond imagination.
The Life and Death of Colonel Blimp (1945), Director: Emeric Pressburger, Running time: 163 minutes.
Michael Powell and Emeric Pressburger's first Technicolor masterpiece, The Life and Death of Colonel Blimp (1943), transcends its narrow wartime propaganda to portray in warm-hearted detail the life and loves of one extraordinary man. The film's clever narrative structure first presents us with the imposingly rotund General Clive Wynne-Candy (Roger Livesey in his greatest screen performance), a blustering old duffer who seems the epitome of stuffy, outmoded values. But traveling backwards 40 years we see a different man altogether: the young and dashing officer "Sugar" Candy. Through a series of affecting relationships with three women (all played to perfection by Deborah Kerr) and his touching lifelong friendship with a German officer (Anton Wallbrook), we see Candy's life unfold and come to understand how difficult it is for him to adapt his sense of military honor to modern notions of "total war." Notoriously, this is the film that Winston Churchill tried to have banned, and indeed its sympathetic portrayal of a German officer was contentious in 1943, though one suspects that Churchill's own blimpishness was a factor too.  (Mark Walker for Amazon.com)
Lifeboat (1944), Director: Alfred Hitchcock, Running time: 96 minutes.
Nominated for three Academy Awards, Alfred Hitchcock's "absorbing brilliantly executed" (Hollywood Reporter) World War II drama, is a remarkable story of human survival. After their ship is sunk in the Atlantic by Germans, eight people are stranded in a lifeboat, among them a glamorous journalist (Tallulah Bankhead), a tough seaman (John Hodiak), a nurse (Mary Anderson) and an injured sailor (William Bendix). Their problems are further compounded when they pick up a ninth passenger - the Nazi captain from the U-boat that torpedoed them. With its powerful interplay of suspense and emotion, this legendary classic is a microcosm of humanity, revealing the subtleties of man's strengths and frailties under extraordinary duress. 
Life Is Beautiful (1998), Director: Roberto Benigni, Running time: 116 minutes.
In this extraordinary tale, Guido (Benigni)—a charming but bumbling waiter who's gifted with a colorful imagination and an irresistible sense of humor—has won the heart of the woman he loves and created a beautiful life for his young family. But then, that life is threatened by World War II ... and Guido must rely on those very same strengths to save his beloved wife and son from an unthinkable fate! Honored with an overwhelming level of critical acclaim, this truly exceptional, utterly unique achievement will lift your spirits and capture your heart!
The Lion Has Wings (1939), Directors: Michael Powell, Adrian Brunel and Brian Desmond Hurst, Running time: 76 minutes.
A "documentary" style film to praise the R.A.F. at the start of World War II. The 'Michael Powell' touch adds to the stock footage to bring us the people involved in a bomber attack on the Keil Canal and a Spitfire night fighter repulsion of the Nazi bombers.
Lion of the Desert (1981), Director: Moustapha Akkad, Running time: 206 minutes.
Under a shaggy Muslim beard, Anthony Quinn stars as Omar Mukhtar, the Arab hero and guerilla fighter who defended Libya against Benito Mussolini and Italy's attempted conquests during World War II. As straightforward biography, the movie's got an admirable epic sweep, but a cliché-ridden script and uniformly bad performances (from a cast that includes John Gielgud, Oliver Reed, and Rod Steiger) make this little more than a curiosity for those wanting to learn more about Libyan history.  (Jeff Shannon for Amazon.com)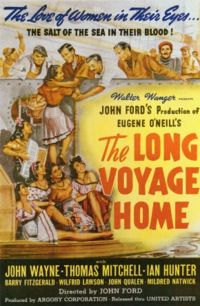 The Long Voyage Home (1940), Director: John Ford, Running time: 104 minutes.
Aboard the freighter Glencairn, the lives of the crew are lived out in fear, loneliness, suspicion and camaraderie. The men smuggle drink and women aboard, fight with each other, spy on each other, comfort each other as death approaches, and rescue each other from danger.
The Longest Day (1962), Director: Ken Annakin, Running time: 168 minutes.
This special collector's commemorative edition has been issued in honor of the June 6, 1944 Allied invasion of France, which marked the beginning of the end of Nazi domination over Europe. The attack involved 3,000,000 men, 11,000 planes and 4,000 ships, comprising the largest armada the world has ever seen. 
The Longest Day is a vivid, hour-by-hour recreation of this historic event. Featuring a stellar international cast, and told from the perspectives of both sides, it is a fascinating look at the massive preparations, mistakes, and random events that determined the outcome of one of the biggest battles in history. Winner of two 1962 Oscars® (Special Effects and Cinematography), The Longest Day ranks as one of Hollywood's truly great war films. 
Lorelei (2005), Director: Shinji Higuchi and Cellin Gluck, Running time: 128 minutes.
A drama set during World War II where a submarine carrying a secret weapon attempts to stop a planned third atomic bombing of Japan. Based on Harutoshi Fukui's novel Shuusen no Lorelei.
Lucie Aubrac (1997), Director: Claude Berri, Running time: 115 minutes.
Carole Bouquet stars as Lucie Aubrac, a heroine of the French resistance during World War II. Her husband Raymond (Daniel Auteuil) is a resistance fighter who helps sabotage Nazi trains. At a meeting, he and some compatriots are arrested, but believed to merely be black-marketeers. Lucie secures his release and enables them to fulfill their oath to spend every May 14 together, the anniversary of the first night they made love. The arrest of a resistance leader causes divisions; a meeting called to resolve them is raided, and Raymond is arrested again, along with an important resistance figure known as Max. Raymond endures brutal interrogations but is sentenced to death. With steely determination, Lucie plots to rescue him. 
Lucie Aubrac is part thriller and part romance, but both halves are handled with a subdued discretion that doesn't prevent the movie from being deeply engaging. Meticulous and skillful, director Claude Berri paces his story carefully, paying attention to the details of life in occupied France. The fully developed atmosphere, never overstated, gives just the right frame to Lucie and Raymond's passionate marriage. Auteuil is solid, but it's Bouquet's film; her performance is as low-key as the movie, yet completely compelling and deeply affecting. Based on a true story.  (Bret Fetzer for Amazon.com)