Israel came to a halt as citizens marked Holocaust Remembrance Day, commemorating the murder of six million Jews by the Nazis during World War II.
Children of the Holocaust

Sirens rang out across the country bringing drivers to halt, and they stood by their cars for two minutes' silent reflection. Prime Minister Benjamin Netanyahu used the occasion to warn against what he called a new threat to Jews from Iran. There are more than 207,000 holocaust survivors living in Israel. There are 63,000 fewer survivors remaining compared to two years ago, figures show.
On the front page of one of the country's leading circulation Hebrew daily newspaper, Yedioth Ahranoth, there was a black and white picture of a bearded polish man, covered in a prayer shawl, kneeling before two Nazi officers, clenching his fists.
'Vow'
It was a picture of the maternal grandfather of Meir Dagan, the head of Israel's spy agency Mossad, in the moment before he was executed by the Nazis. It comes from Mr Dagan's personal library. "I see that photo every day and vow that a thing like that will not happen again," he said.
Mr Dagan's agency is widely believed to have been behind the assassination of a Hamas leader, Mahmoud al-Mabhouh, in Dubai. The UK government recently expelled a Mossad official in London because British passports had been cloned and used by the agents who carried out the killing.
Holocaust Martyrs at Yad Vashem
At Jerusalem's Yad Vashem, the state memorial authority, President Shimon Peres and Mr Netanyahu joined other lawmakers and cabinet minister in reading out the names of family members killed in the Nazi death camps. "If we have learned anything from the Holocaust, it is that we must not be silent or be deterred in the face of evil," Mr Netanyahu said. "The world goes about its business as though its a fuss about nothing while Iran steps up its efforts to arm itself with nuclear weapons and threatens to wipe Israel off the map," Mr Netanyahu said.
The memorial authority is continuing with a project to name and give the stories of every Jew killed in Adolf Hitler's "final solution." Television and radio stations gave their entire day's programming over to the Holocaust.
Source: BBC, One-Minute World News, April 12, 2010.
History of Yom Hashoah, Holocaust Remembrance Day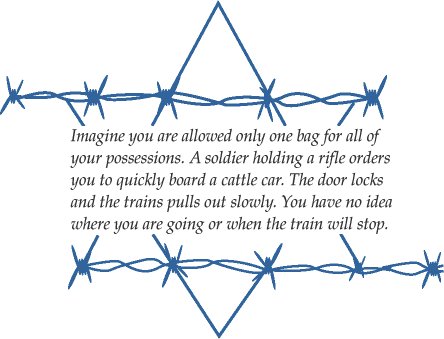 It has been over 60 years since the Holocaust. To survivors, the Holocaust remains real and ever-present, but for some others, sixty years makes the Holocaust seem part of ancient history. Year-round we try to teach and inform others about the horrors of the Holocaust. We confront the questions of what happened? How did it happen? How could it happen? Could it happen again? We attempt to fight against ignorance with education and against disbelief with proof.
But there is one day in the year when we make a special effort to remember (Zachor). Upon this one day, we remember those that suffered, those that fought, and those that died. Six million Jews were murdered. Many families were completely decimated.
Why this day?
Jewish history is long and filled with many stories of slavery and freedom, sorrow and joy, persecution and redemption. For Jews, their history, their family, and their relationship with God have shaped their religion and their identity. The Hebrew calendar is filled with varied holidays that incorporate and reiterate the history and tradition of the Jewish people.
After the horrors of the Holocaust, Jews wanted a day to memorialize this tragedy. But what day? The Holocaust spanned years with suffering and death spread throughout these years of terror. No one day stood out as representative of this destruction.
So various days were suggested.
The tenth of Tevet was proffered. This day is Asarah B'Tevet and marks the beginning of the siege of Jerusalem. But this day holds no direct relation or tie to the Holocaust.
The Zionists in Israel, many of whom had fought in the ghettos or as partisans, wanted to commemorate the beginning of the Warsaw Ghetto Uprising - April 19, 1943. But this date on the Hebrew calendar is the 14th of Nissan - the day before Passover, a very important and happy holiday. Orthodox Jews objected to this date.
For two years, the date was debated. Finally, in 1950, compromises and bargaining began. The 27th of Nissan was chosen, which falls beyond Passover but within the time span of the Warsaw Ghetto Uprising. Orthodox Jews still did not like this date because it was a day of mourning within the traditionally happy month of Nissan. As a final effort to compromise, it was decided that if the 27th of Nissan would affect Shabbat (fall on Friday or Saturday), then it would be moved. If the 27th of Nissan falls on a Friday, Holocaust Remembrance Day is moved to the preceding Thursday. If the 27th of Nissan falls on a Sunday, then Holocaust Remembrance Day is moved to the following Monday.
On April 12, 1951, the Knesset (Israel's parliament) proclaimed Yom Hashoah U'Mered HaGetaot (Holocaust and Ghetto Revolt Remembrance Day) to be the 27th of Nissan. The name later became known as Yom Hashoah Ve Hagevurah (Devastation and Heroism Day) and even later simplified to Yom Hashoah.
Source: About.com: 20th Century History, http://history1900s.about.com/cs/holocaust/a/yomhashoah.htm