Arbabzadah, Nushin.  From Outside In (Arcadia Books, 2007).
The harsh realities of refugee life in the UK are emotionally recounted in this collection of short stories, memoirs, and poems, published in association with the British Council. The writers' relationship to their adopted home is complex and ambiguous, with gratitude and appreciation for the rich culture and democratic tradition of Britain mixed with the pain caused by racism, arrogance, and ignorance.
Drucker, Olga Levy.  Kindertransport (Henry Holt and Company, 1995).
he author of this personal narrative was born in Germany in 1927 and soon found her life disrupted by the events in Europe in the 1930s. Her mother arranged for her to be part of the Kindertransport , through which 10,000 Jewish children were sent to live with English families. Ollie, 11 when she leaves, speaks virtually no English and finds herself in a series of undesirable living situations: a dingy, louse-infested flat; a luxurious home in which she is virtually ignored; a boarding school that closes when the war begins; a Baptist family intent on avoiding sin; and a home with a sickly woman whose illnesses cause Ollie to miss school. At the age of 16 she leaves her studies to help take care of a family with five children. During this time Ollie worries about her parents' safety in Germany as the war rages, and keeps herself going with thoughts of a reunion with them. Eventually, they make their way to New York, and in 1945, she is able to join them. Her afterword reflects on her experiences as a refugee. The book is touching as well as exciting, and is one of the World War II reminiscences that middle school readers will devour. In a few unfortunates places, the author interjects herself too forcefully into the narrative; for example, she short-circuits a compelling story with comments such as, ``Children don't usually stop to realize what's going on. But if I had, it might have gone something like this. . . .'' In spite of occasional flaws, this is a worthwhile purchase written with an authentic voice.  (Ellen Fader, for School Library Journal)
Dubrovsky, Gertrude.  Six from Leipzig (Vallentine Mitchell and Co., 2003).
Between December 1938 and September 1939, 10,000 children from Germany, Austria, Czechoslovakia and Poland were placed by their parents on trains - Kindertransport - bound for England, where they survived the Holocaust. Forced to remain behind, their parents were not as fortunate. The children's care and education in England became the responsibility of the Refugee Children's Movement, which consisted of 12 regional and about 100 local voluntary committees. Six cousins from Leipzig, aged seven months to 14 years, were among the 2,000 children who arrived in Cambridge, and were under the supervision of both the Movement and of the Cambridge Refugee Children's Committee. The story of these children brings to life the issues faced by all those who travelled on the Kindertransports and the way in which the Committee tried to cope with their responsibilities. Although a number of memoirs have been written on this topic, this book puts the subject into historical perspective and should be useful to those who want to know how rescue was organized, by whom, and under what circumstances.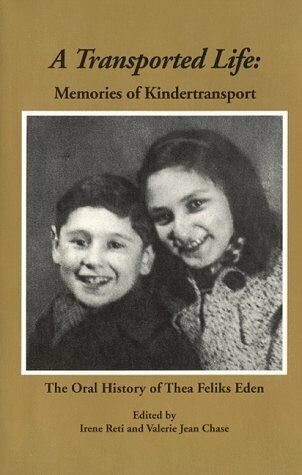 Eden, Thea.  A Transported Life: Memories of Kindertransport (Herbooks, 1995).
This oral history of Thea Felika Eden focuses on the Kindertransport, a program which rescued 10,000 Jewish children from Germany and Austria and brought them to England. It is an important contribution to the literature by and about child survivors of the Holocaust and other extreme forms of trauma.
Fox, Anne and Eva Abraham-Podietz.  Ten Thousand Children (Behrman House, 1998).
The Kindertransport was a rescue operation that saved 10,000 Jewish children from Nazi-occupied Europe between December 1938 and September 1939 and found homes for them in England. Only 1,000 of them ever saw their families again. Olga Levy Drucker's Kindertransport (1992) is one survivor's detailed story. The authors of this book were also Kinder who got away to England, and they have written a profoundly moving, accessible account that combines the history of the time with the first-person testimonies of 21 survivors. Each chapter begins with the big picture--life under Hitler, Kristallnacht, preparing to leave, the journey, life in England through the war years and afterward--and then includes brief vignettes by Kinder who remember how it was for them; finally, a brief note summarizes what happened to each child afterward. The design is like an open scrapbook, with different size typefaces, snapshots, news photos, and marginal notes; and the combination of the general overview with personal memories will bring readers, from middle grades through adult, close to the experience. These people escaped; the brutality is offstage, but the anguish is in the childhood details. What was it like to say good-bye to your parents, knowing you might never see them again? To arrive in a new country, learn a new language, and live with strangers? To discover after the war that your family was gone? Or to find your parents, leave your foster home, and try to be a family again? The authors' quiet final note is rooted in the survivors' stories: the Kinder have learned, among other things, to appreciate people's differences and to remember the kindness of strangers.  Recommended reading for grades 5-8..  (Hazel Rochman for Amazon.com) 
Fry, Helen.  The King's Most Loyal Enemy Aliens (The History Press, 2007).
This is the compelling story of the 10,000 German and Austrian nationals who fled Nazi persecution to join the British in their fight against Hitler during the Second World War. Most were Jews but a significant number were political opponents of the Nazi regime and so-called 'degenerate artists'. They arrived in Britain between 1933 and 1939, and at the outbreak of war on 3 September 1939 became 'enemy aliens'. They volunteered to serve in the British forces, donned the King's uniform, swore allegiance to George VI and became affectionately known as 'the King's most loyal enemy aliens'. This compelling story includes previously unpublished interviews with veterans and an impressive selection of archive photographs, many of which are reproduced for the first time.
Gershon, Karen.  We Came as Children (Pan MacMillan, 1989).
The autobiographies of 234 German and Austrian Jews who arrived as refugees in Britain in 1938/39, published to tie in with the anniversary of the outbreak of the War. Gershon has won the Arts Council Poetry Award, the Pioneer Women Poetry Award and Jewish Chronicle Book of the Year prize.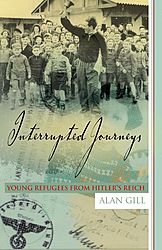 Gill, Alan.  Interrupted Journeys: Young Refugees from Hitler's Reich (Simon and Schuster, Australia, 2005).
As the dark storm clouds of World War II gathered over Europe, some 10,000 young German, Austrian and Czech Jews fled Nazi oppression in their homeland to seek refuge in Britain, America and Australia. Leaving behind their parents, families and everything familiar, they fled to an unknown country and future in their fight for survival.
Interrupted Journeys tells the wartime stories of the Kindertransports and other child and teen refugees. It reveals the trials and eventual triumphs of young people who survived the Nazi camps, or spent the war in hiding, and who migrated to the same destinations, sponsored by private and government agencies, in the post-war era. These immigrants have added richly to the life of their host countries and Alan Gill has drawn on several years of research and hours of personal interviews to bring their stories to a new generation.
Some of the accounts are very strange indeed. Like that of the Dunera Boys - low category enemy aliens shipped from Britain to Australia, where they were interned for nearly two years 'by mistake'. Even stranger is the saga of the renowned (non-Jewish) Vienna Mozart Boys Choir, who had the misfortune to be touring Australia when war began.
Golabek, Mona.  The Children of Willesden Lane (Grand Central Publishing, 2003).
One of 10,000 Jewish children sent to England by fearful parents at the dawn of WWII, aspiring pianist Lisa Jura was 14 when her family put her on a Kindertransport train in Vienna. In this alternately heart-wrenching and uplifting story, Jura's daughter, Golabek, a pianist, and writer Cohen trace the six years Jura spent in London, where she found surrogate families in the 31 other young refugees at the Willesden Lane hostel, and in the working-class British women at the East End garment factory that employed her. The authors beautifully capture Jura's passion for music and her determination to realize her dream of becoming a concert pianist. Her quest to win a scholarship to the Royal Academy of Music seems to inject hope into everyone with whom she comes into contact: the hostel owner provides her with a piano and practice time, her housemates band together to drill her on technique and theory, and a co-worker makes her an audition outfit. Yet this is no Babes in Arms. Jura's struggle to hold herself together on the trip to England and as she makes a life for herself without the guidance of her beloved mother is as bleak as her musical successes are joyful. And the depictions of V-Day are especially vivid: rather than celebrate with the masses, Jura retreats to the hostel. The war may be over, but for her and her fellow young refugees waiting to learn the fate of their families, the tragedy will continue. (From Publisher's Weekly)
Harris, Mark Jonathan and Deborah Oppenheimer.  Into the Arms of Strangers (Bloomsbury, USA, 2000).
For nine months before the outbreak of World War II, Britain conducted an extraordinary rescue mission. It opened its doors to over 10,000 endangered children-90 percent of them Jewish-from Germany, Austria, and Czechoslovakia. These children were taken into foster homes and hostels in Britain, expecting eventually to be reunited with their parents. Most of the children never saw their families again. Into the Arms of Strangersrecounts the remarkable story of this rescue operation, known as the Kindertransport, and its dramatic impact on the lives of the children who were saved. The book is the companion to the feature-length documentary to be released in the theatres by Warner Bros. in Fall 2000. It contains stories in their own words from the child survivors, rescuers, parents, and foster parents. They recount, in harrowing detail, the effects of the Nazi's reign of terror, the horror ofthe agonizing decision by the parents to send their children away, the journey, the difficulties of adjustment in Britain, the outbreak of war, and the children's tragic discovery afterward that most of their parents had perished in concentration camps. The stories are heartbreaking, but also inspiring. These are the stories of those who survived with the help of others; they are stories about the strength and resolve of children; and most astonishing, these are stories not yet heard about the Holocaust.
Korobkin, Devora.  Throw Your Feet Over Your Shoulders: Beyond the Kindertransport (Devora Publishing, 2008).
The Kindertransport was an unprecedented rescue plan which sought to save as many young children from the Nazi onslaught, as possible. Beginning shortly after Kristallnacht and continuing up until the official start of World War II, Great Britain accepted nearly 10,000 children into their country from Germany and Nazi occupied areas. Most of these children were Jewish, and had they not been evacuated as refugees, it can be assumed that most of these children would not have survived the Holocaust.

When the children arrived in England, most of the Kindertransport children where placed with foster parents in private homes, although some were sent to camps, farms, and other institutions. Regrettably, the sheer number of children involved prevented most of them from being placed with Jewish families. The children in the Kindertransport ranged from infants up to age seventeen. Some traveled with siblings, other totally alone. Bereft of their families and in a foreign country with an unfamiliar language, life for these children was not always easy. However it was the best, and often only choice, that many families had to offer their children any chance for safety.

Throw Your Feet Over Your Shoulders: Beyond the Kindertransport is the story of one of the Kindertransport children who was sent to England, and safety. It is unique in the realm of Kindertransport memoirs because it examines how this rescue operation affected children from Orthodox homes and the added pressures they faced in their new homes. This book was written by Frieda Korobkin. In 1938, Frieda and her three older siblings were put on a train in Vienna by their parents and sent to an unknown future in a far off land. They never saw their parents again.

Frieda was from an orthodox, rabbinic Jewish family. Her father was Rabbi Nissan Stolzberg. When she arrived in England, she was separated from her siblings and sent to live with a Jewish, but non-orthodox family who regularly broke the Sabbath. This placed an additional burden upon the shoulders of the then six-year-old-girl, who not only had to deal with learning to live in a totally alien environment, but also with the guilt of breaking the religious rules that were the foundation of her life, guilt that only intensified when she was evacuated from London and sent to live with a non-Jewish family.

For Frieda, and about a thousand other Orthodox children, they eventually found salvation in the form of Rabbi Solomon Schonfeld who rescued as many orthodox Kindertransport children from non-Jewish and non-religious homes as he could find. He established a hostel in Cardiff, Wales where they could live a religious lifestyle. He also established a Jewish secondary school in Shefford, where many of the Kindertransport children, including Frieda, were sent when the hostel closed in 1943. There the children received a proper, Jewish education while also living in a nurturing, supportive, and religious environment. Frieda almost did not make to Cardiff, because her non-Jewish foster family would not give her permission to leave their home. Fortunately for Frieda, her older siblings, who were already under the care of Rabbi Schonfeld, kidnapped their most willing of victims, and brought her to the safety of the Jewish hostel.

In Throw Your Feet Over Your Shoulders, Frieda allows us to journey along with her from her home in Vienna, examining the family dynamics of her family, her journey to England, and what her life was initially like when she arrived in England, and how it changed, for the better, when she moved to the Cardiff hostel. Frieda also allows us a glimpse into her life, after the war, thereby allowing the reader to get a better idea of what her life was like as an Orthodox Jewish refugee, and how it affected her as she grew up and long into her adulthood, and how it even impacted her own children.
Kranzler, David.  Holocaust Hero: The Untold Story of Solomon Schonfeld (Ktav Publishing, 2003).
Holocaust Hero by historian and Holocaust authority David Kranzler is the true story of Solomon Schonfeld, a young British Rabbi of a small Orthodox congregation, and a pioneer of the day school movement in London, who rescued thousands of Jews from 1938 to 1948. An amazing and inherently fascinating biographical study of a dedicate man, Holocaust Hero focusing heavily on Schonfeld's rescue efforts, and also spotlights the community service he did to provide his "charges" with kosher homes, a Jewish education, and jobs. Forty vignettes drawn from individuals rescued by this truly great man add a special highlight to Holocaust Hero. No Holocaust, Judaic Studies, or 20th Century Biography collections can be considered comprehensive or complete without the inclusion of David Kranzler's Holocaust Hero.
Milton, Edith.  The Tiger in the Attic (University of Chicago Press, 2005).
In 1939, on the eve of Hitler's invasion of Poland, seven-year-old Edith Milton (then Edith Cohn) and her sister Ruth left Germany by way of the Kindertransport, the program which gave some 10,000 Jewish children refuge in England. The two were given shelter by a jovial, upper-class British foster family with whom they lived for the next seven years. Edith chronicles these transformative experiences of exile and good fortune in The Tiger in the Attic, a touching memoir of growing up as an outsider in a strange land.

In this illuminating chronicle, Edith describes how she struggled to fit in and to conquer self-doubts about her German identity. Her realistic portrayal of the seemingly mundane yet historically momentous details of daily life during World War II slowly reveals istelf as a hopeful story about the kindness and generosity of strangers. She paints an account rich with colorful characters and intense relationships, uncanny close calls and unnerving bouts of luck that led to survival. Edith's journey between cultures continues with her final passage to America—yet another chapter in her life that required adjustment to a new world—allowing her, as she narrates it here, to visit her past as an exile all over again.

The Tiger in the Attic is a literary gem from a skilled fiction writer, the story of a thoughtful and observant child growing up against the backdrop of the most dangerous and decisive moment in modern European history. Offering a unique perspective on Holocaust studies, this book is both an exceptional and universal story of a young German-Jewish girl caught between worlds.
Samuels, Diane.  Kindertransport (Nick Hern Books, 2010).
Diane Samuels was born in 1960 in Liverpool, England. She studied history at the University of Cambridge, then continued her training as a drama teacher at Goldsmith's College in London. This led to teaching for five years in secondary schools in the city of London.  Since leaving the teaching profession, Diane Samuels has devoted herself to writing. Among her plays for adult audiences are Watch Out for Mister Stork and Chalk Circle. She has also written a number of children's theatre plays, including Forever and Ever, One Hundred Million Footsteps, How to Beat a Giant, and The Bonekeeper which was short-listed for the W.H. Smith Award for plays for children.
Sonnert, Gerhard and Gerald Holton.  What Happened to the Children Who Fled Nazi Persecution (Palgrave Macmillan, 2006).
"This is an extraordinary book. As a child who fled Nazi persecution, I was fascinated to learn from this important study how the European culture of our origin (our cultural capital) merged with the freedom and academic opportunities of our newfound homeland, the United States, to give my generation of émigrés a distinctive set of capabilities, ambitions, and opportunities for a remarkably productive and enjoyable life despite the traumatic uprooting of our childhood. This beautifully documented analysis also illustrates two ways in which this infusion of émigrés differed from other waves of immigration. First, because of their youth, they sought to merge imperceptibly into American life. Second, because of their background, they could make a unique contribution to American culture.
This book is a must for both the general reader and the specialists in social sciences and history. Anyone interested in learning how different waves of immigration have forged American culture will find this book a fascinating intellectual experience."—Eric R. Kandel, winner of the 2000 Nobel Prize for Physiology/Medicine
Turner, Barry.  And the Policeman Smiled (Bloomsbury Publishing, 1991).
From 1938 over 10,000 Jewish and Catholic children were helped to escape from Nazi Europe. The children were bundled onto trains and set off across Germany and Holland to the ferries which took them to England. This book traces the story of the Kindertransporte and those who helped organize the exodus. The book is based on previously unpublished records and extensive interviews and describes the often painful adjustments of the young refugees to a strange country and the often lonely life of billeting, fostering, evacuation and even deportation.
Wasserstein, Bernard.  Britain and the Jews of Europe: 1939-1945 (Cassell, 1999).
Examines British policy towards the "Jewish problem" during World War II. Based on archival sources, the book explores the reasons for the near-total ban on Jewish refugee immigration into Britain, the restrictive immigration policy in Palestine, the failure to aid Jewish resistance in Europe and the rejection of the scheme for the Allied bombing of Auschwitz. The author presents a story of bureaucratic complacency, inhumanity and blindness to the Jewish catastrophe in Europe. This revised edition takes into account papers opened since the first edition, including intelligence materials, and subsequent scholarship.
Whitman, Dorit Bader.  The Uprooted: A Hitler Legacy (Da Capo Press, 1993).
While much information exists on the dramatic fate of concentration camp victims, little is available about the Jewish men, women, and children who managed to escape before Hitler implemented mass executions and the death camps. The Uprooted: A Hitler Legacy is an extraordinary work featuring the stories of 190 escapees, lived through their own eyes and compellingly recollected in their own words. Dorit Bader Whiteman, a clinical psychologist and a refugee herself, depicts the experiences of these escapees: the persecution by citizens and officials; the abrupt confiscation of personal possessions; the raids and arrests; the quest to save the children; the dangers and fortuities in escape and resettlement; and the lasting emotional consequences of these experiences. By the end of the 1930s, European Jews fled to countries worldwide in search of a haven, among them England, Sweden, Turkey, South Africa, Argentina, Australia, Canada, and the United States. One of the most moving accounts is that of the Kindertransport of 10,000 Jewish children in 1939 from Nazi-occupied countries to Great Britain in trains so crowded that the smaller children had to be placed in luggage racks above the seats. Dr. Whiteman illustrates the spectrum of foster homes, ranging from the compassionate to the injurious, in which the Kinder, separated from their parents, were placed. It is equally poignant to read of the adult refugees who struggled to resettle in a new land unable to speak the language, without appropriate skills or education, without money or contacts, and filled with uncertainty over the fate of family and friends. The author provides important psychological insights into how these experiences have left the escapees to this very day with strength and with pain.