Children's Books and Picture Books--Poole to Ziefert
Poole, Josephine and Angela Barrett (Illustrator).  Anne Frank (Knopf Books for Young Readers, 2005).
The life of Anne Frank, from birth until being taken from the hidden attic by the Nazis, is presented in this haunting, meticulously researched picture book. It is a compelling yet easy-to-understand "first" introduction to the Holocaust as witnessed by Anne and her family. The stunningly evocative illustrations by Angela Barrett are worth a thousand words in capturing for young Americans what it must have felt like to be Anne Frank, a spirited child caught in the maelstrom of World War II atrocities. A detailed timeline of important events in Europe and in the Frank family is included.
Radunsky, Vladimir.  What Does Peace Feel Like? (Atheneum/Anne Schwartz Books, 2003).
Radunsky strings together descriptive similes and metaphors to describe the essence of the word "peace." "What does Peace smell like? Like a bouquet of flowers in a happy family's living room…like fresh and new furniture…like pizza with onions and sausage.…" To the side of each question, the author indicates the names of children from the Ambrit International School in Rome who contributed their sentiments to the text. Other spreads attempt to explain how peace looks, sounds, tastes, and feels. Colorful gouache illustrations, primitive in design, supplement the concept. The only unique feature is the extensive list of words for peace in over 150 languages that appears at the end. While the book might be useful for a unit on peacekeeping, there is nothing original here. (Blair Christolon, Prince William Public Library System, for School Library Journal)
Rappaport, Doreen and Emily Arnold McCully (Illustrator).  The Secret Seder (Hyperion Books, 2005).
Jacques and his parents are hiding in Nazi-occupied France during World War II, pretending to be Catholics. On the first night of Passover, Jacques and his father elude Nazi soldiers to gather with other Jews and celebrate the Seder in secret. For this book, Doreen Rappaport researched the lives of resistance fighters and Jews in hiding: brave men and women who managed to survive one of the darkest times in history with their faith intact. Emily Arnold McCully's intense and respectful paintings illuminate the perils of a turbulent time and the triumphs of a resilient people.
Reynoldson, Fiona.  Key Battles of World War II (Heinemann, 2001).
Key Battles of World War II provides in-depth background information and detailed descriptions of an important event in history, while considering the causes and effects, the issues at stake, the people involved, the aftermath, and consequences.
Rubin, Susan Goldman and Ela Weissberger.  The Cat With the Yellow Star: Coming of Age in Terezin (Holiday House, 2006).
Ela Stein was eleven years old in February of 1942 when she was sent to the Terezin concentration camp with other Czech Jews. By the time she was liberated in 1945, she was fifteen. Somehow during those horrendous three-and-a-half years of sickness, terror, separation from loved ones, and loss, Ela managed to grow up. Although conditions were wretched, Ela forged lifelong friendships with other girls from Room 28 of her barracks. Adults working with the children tried their best to keep up the youngest prisoners' spirits. A children's opera called Brundibar was even performed, and Ela was chosen to play the pivotal role of the cat. Yet amidst all of this, the feared transports to death camps and death itself were a part of daily life. Full of sorrow, yet persistent in its belief that humans can triumph over evil; this unusual memoir tells the story of an unimaginable coming of age.
Russo, Marisabina.  Always Remember Me: How One Family Survived World War II (Atheneum/Anne Schwartz Books, 2005).
Rachel's Oma (her grandmother) has two picture albums. In one the photographs show only happy times -- from after World War II, when she and her daughters had come to America. But the other album includes much sadder times from before—when their life in Germany was destroyed by the Nazis' rise to power. For as long as Rachel can remember, Oma has closed the other album when she's gotten to the sad part. But today Oma will share it all. Today Rachel will hear about what her grandmother, her mother, and her aunts endured. And she'll see how the power of this Jewish family's love for one another gave them the strength to survive.
Takashima, Shizuye.  A Child in Prison Camp (Tundra Books, 1992).
When Shizuye Takashima, "Shichan" as she was called, was eleven years old, her entire world changed forever. As a Japanese-Canadian in 1941, she was among thousands of people forced from their homes and sent to live in internment camps in the Canadian Rockies. Although none had been convicted of any crime, they were considered the enemy because the country was at war with Japan. In this true story of sadness and joy, Shichan recalls her life in the days leading up to her family's forced movement to the camp, her fear, anger, and frustration as the war drags on, and the surprising joys in the camp: a Kabuki play, holiday celebrations, and the ever-present beauty of the stars.
Tsuchiya, Yukio and Ted Lewin (Illustrator).  Faithful Elephants: A True Story of Animals, People, and War (Houghton Mifflin, 1997).
A zookeeper recounts the story of John, Tonky, and Wanly, three performing elephants at the Ueno Zoo in Tokyo, whose turn it is to die, and of their keepers, who weep and pray that World War II will end so their beloved elephants might be saved.
Uchida, Yoshiko.  The Bracelet (Putnam Juvenile, 1996).
Emi, a Japanese American in the second grade, is sent with her family to an internment camp during World War II, but the loss of the bracelet her best friend has given her proves that she does not need a physical reminder of that friendship.  
Vander Zee, Ruth.  Erika's Story (Creative Editions, 2003).
The searing, beautiful illustrations of acclaimed artist Roberto Innocenti capture the fear, love, and sadness of a Holocaust survivor's tale in this story of a Jewish couple who make a heart-rending decision so that their infant daughter might live. Based on a true story.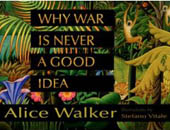 Walker, Alice.  Why War is Never a Good Idea (HarperCollins, 2007).
Though War is Old / It has not / Become wise," Walker writes in this spare, eloquent poem. Naive-style paintings in neon-bright colors celebrate forest diversity and urban communities across the globe. Then each community, in turn, is destroyed by war, its glowing warmth disappearing beneath clouds of smoke and ash. On the first page, a smiling frog and a beautiful pink flower bask in a pond; on the opposite page, "Huge tires / Of a / Camouflaged / Vehicle are /About to / Squash / Them flat." Then the destruction intensifies: something drops from the sky on a Latino boy dreaming on a haystack. Images of eyes greedy for oil give way to a stark picture of mothers and babies buried beneath swirling, tactile streams of waste. The communities are always idyllic, with no hint of poverty or struggle, but the activist message and sometimes frightening images will compel children to talk about what they feel and see. (Hazel Rochman for Booklist)
Wild, Margaret and Julie Vivas (Illustrator).  Let the Celebrations Begin! (Orchard Books, 1996).
A child, who remembers life at home before life in a concentration camp, makes toys with the women to give to the other children at the very special party they are going to have when the soldiers arrive to liberate the camp.
Yolen, Jane and Leslie Baker (Illustrator).  All Those Secrets of the World (Little Brown & Co., 1993).
The highly prolific Yolen ( Owl Moon ; Elfabet ) here relates a bittersweet memory from an important period in her childhood: the two years during which her father was away at war. She recalls the fun she and her cousin Michael had when the family piled into the car to go see Daddy's ship off at the docks--the children ate ice cream cones, but Mama "cried all the way home." At the beach the next day Janie and Michael see some tiny spots on the horizon. Michael tells her that they are ships, but Janie doesn't believe him. (The specks are so small, she says, and her daddy's ship was so big. . . .) Five-year-old Michael teaches her a "secret of the world"--as he moves further away from her, he gets smaller. When father returns and tells his daughter that she is "lots bigger than I remembered," Janie explains, "Now you are here, so I am big." This timely, nostalgic story is told with simple grace, and Janie's thoughts and experiences are believably childlike. Baker's ( The Third-Story Cat ) watercolors are poignant, evocative and contain just the right amount of sentimentality.
(Publisher's Weekly)
Young, Ed.  Voices of the Heart (Scholastic Press, 2003).
In this deeply personal book, Ed Young explores twenty-six Chinese characters, each describing a feeling or emotion, and each containing the symbol for the heart. Through stunning collage art that interprets the visual elements within each character, Young uncovers layers of meanings for words such as joy and sorrow, respect and rudeness. He invites readers to probe the full range of their own emotions and he gives a context for discussing ethics and the similarities between old and new, East and West. It's a book for those who love the beauty of language and the beauty of the heart.
Ziefert, Harriet.  A New Coat for Anna (Dragonfly Books, 1988).
"A fresh and moving story of a mother's dedication to acquire a coat for her daughter in post-World War II hard times. Anna's mother decides to trade the few valuables she has left for wool and for the services of a spinner, a weaver, and a tailor. Lobel's pictures do a tremendous job of evoking the period. Insightful and informative, this may make children consider how precious the ordinary can become in times of turmoil." (Booklist)